Rauk

&nbsp


Heavy Tumbler
Sold Individually
Regular price
Sale price
$76.00
Unit price
per
Buy more and get up to 25% off
Free shipping on orders over $140
Enjoy extended holiday returns
The Rauk Heavy Tumbler is a modern interpretation of the classic old fashioned glass. The glass has been developed for whisky drinkers who prefer their spirit chilled on the rocks. And for those who revel in the crafted cocktail, the tumbler features a core innovation. Inside the glass lies an array of extruded chevrons radiating from the center, which serve to provide friction for gripping ingredients used in muddled drinks.

Circumventing the ornamentation of cut crystal, the entire surface of the tumbler, inside and out, is born in a single blinding moment of machine-pressing the molten non-leaded crystal into a complex five-part mold. The result is a pure expression of material and form that elevates the traditional lowball glass to new heights, with geometric facets and edges blending organically into curved surfaces that fascinate the eyes and play with the sense of touch.

The tumbler is available in two standard sizes: a 250 ml (or OF) and a 350 ml (or DOF). Which size is right for you will depend on how heavy you like your glass and the intended use. Traditionally speaking, the DOF (or double old fashioned glass) is called for when a drink requires larger amounts of ice or is composed of a greater volume of lower alcohol content. But we know some folks just like a big glass in their hand.
RAUK HEAVY TUMBLER
View full details
HEAVY DUTY
A ROCKS GLASS FOR THOSE SEEKING A LITTLE HEFT IN THEIR POUR.
MODERN MIXOLOGY
THE OLD FASHIONED GLASS—MADE NEW. FOR CRAFTED COCKTAILS SERVED UP OR ON ICE.
MULTI-FACETED
A LOWBALL WITH HIGH DESIGN. FEATURING INNER MUDDLING CHEVRONS AND A THREE-DIMENSIONAL BASE.
"Molten crystal slips into a five-piece mold that's machine-pressed into a rocks glass fit for the set of Dune or Westworld."
Which heavy tumbler is right for you?
Crystal tumblers (non-leaded like ours included) are hefty objects. They certainly make their presence felt in the hand. The original Heavy Tumbler is the 250 ML size; it is compact but by no means slight. The larger, 350 ML Heavy Tumbler is a scaled up sibling; it is suitable for those with a large, firm grip.

As for the color of your tumbler, that's largely down to personal preference. A clear crystal tumbler is a thing of brilliance. But a smokey grey glass is modern and elegant, and we venture that our matte black, mirrored interior tumbler is utterly unique in the glassware world.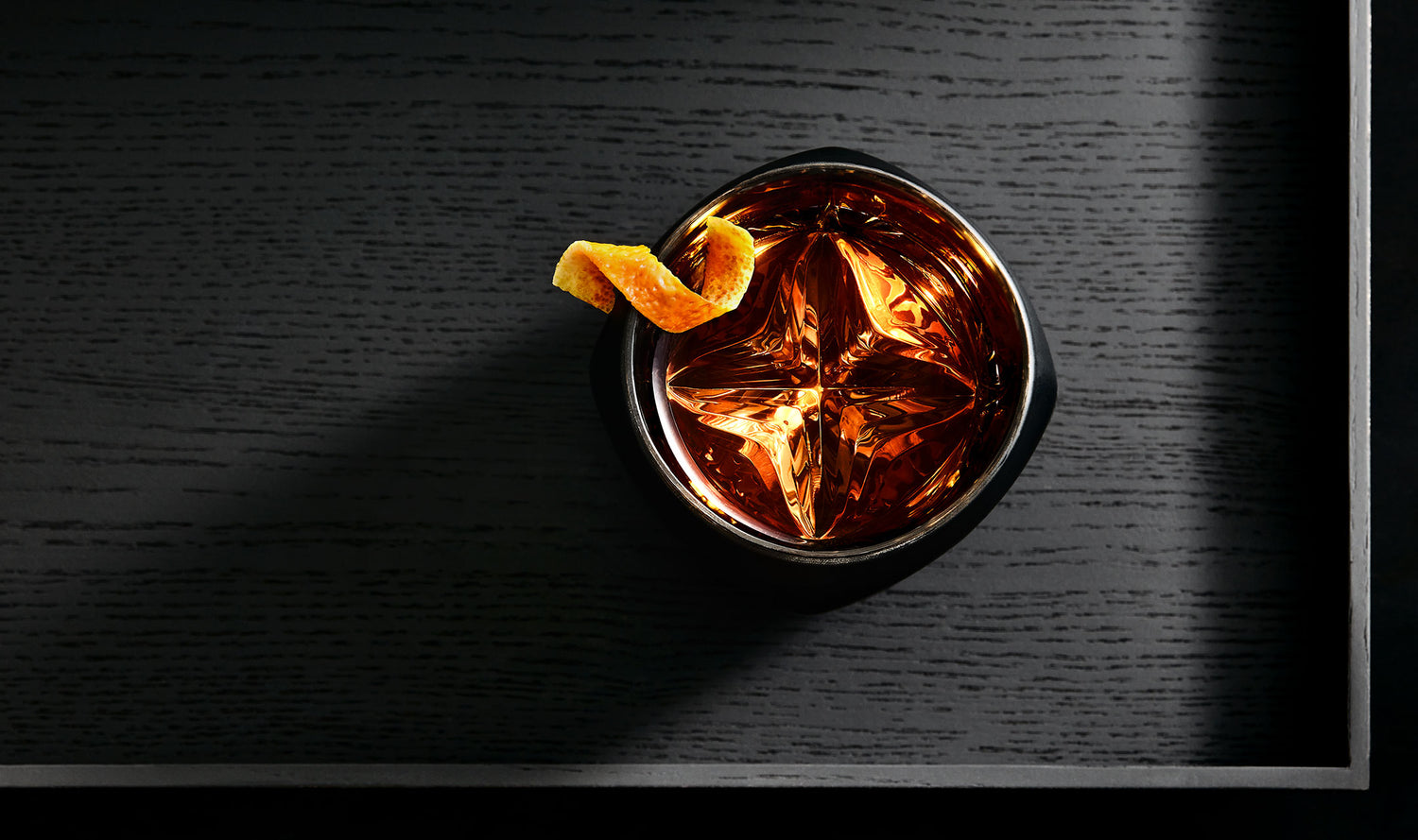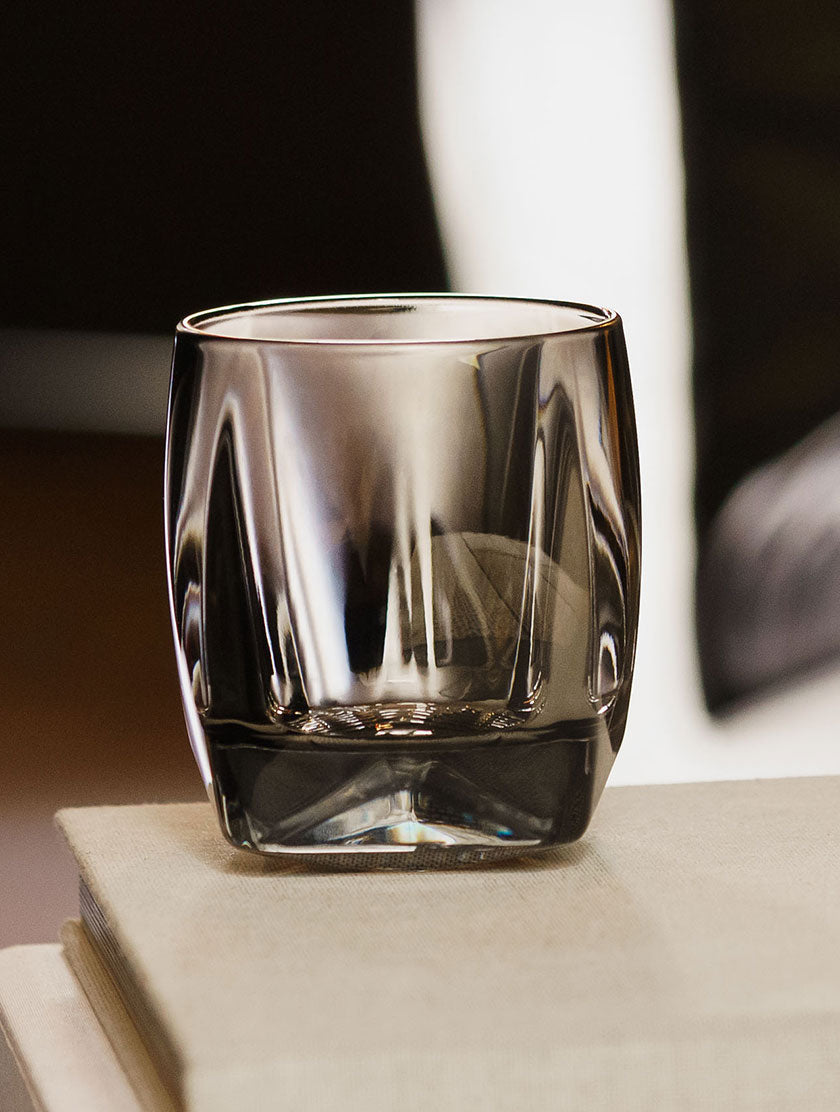 COLOR YOUR WHISKY
Not only is the tumbler available in two sizes, but you can also choose from a transparent smokey grey or opaque black with mirrored interior. Who says your glass needs to be clear?
FREQUENTLY ASKED QUESTIONS
Is the tumbler dishwasher safe?

While the Rauk Heavy Tumbler is indeed dishwasher safe, we always recommend hand washing and drying with a non-abrasive cloth to ensure the long and sparkling life of your heavy tumbler of choice.
Can I store my tumbler in the freezer?

Pre-chilling a glass tumbler in advance of making a cocktail is a common practice. We'll often add ice and water to our Heavy Tumbler and place in the freezer briefly before the addition of our cocktail.

That being said, we do not recommend ever subjecting the glass to thermal shock by transferring a recently washed tumbler that may hold residual heat directly into the freezer. And no, we do not recommend storing the tumbler in the freezer for any extended period of time.
Can I use ice or whisky stones in the tumbler?

We made this tumbler for those who enjoy sipping their whisky on the rocks. You can most certainly use any variety of ice or whisky stone in the Heavy Tumbler. 
What kind of cocktails do you recommend serving in the tumbler?

The Rauk Heavy Tumbler is probably one of the most versatile glasses in your home bar arsenal. You can serve an Old Fashioned, Sidecar, Negroni, Godfather, Whisky Sour, Sazerac and many more classic or modern cocktails in the tumbler.

If you prefer a tall glass for serving mixed beverages such as Scotch and soda, whiskey and ginger, or gin and tonic, we recommend checking out our Vawe Highball Glass.
Can the tumbler be engraved?

While we do not offer engraving services, any engraving specialist should be more than happy to work on these glasses.

Note: The grey and black editions of the Rauk Heavy Tumbler are coated in a lacquer finish. Engraving the exterior will remove this finish.
How does the tumbler differ from the Norlan Whisky Glass?

The Rauk Heavy Tumbler was developed with two primary purposes in mind: for the enjoyment of whisky on the rocks and for appreciating crafted cocktails served in an Old Fashioned sized glass. 

Because ice cools the spirit, which then diminishes aroma, the tumbler is not intended for those who find nosing to be an important aspect of the drinking experience. For those who seek an elevated aromatic experience and prefer drinking neat, we suggest using the Norlan Whisky Glass. 
show more